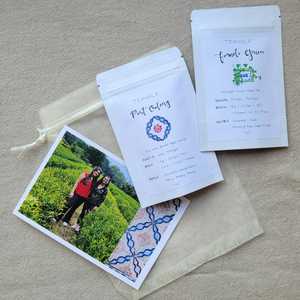 Portugal Tea Mail
Sale price Price $18.00 USD Regular price
*Limited offering*
Sold out!
Included in this Tea Mail: 
1 pack of Port Oolong (port wine barrel aged tea) sourced from a tea farm in Fornelo, Portugal
1 pack of Fornelo Green tea, sourced from a tea farm in Fornelo, Portugal
A postcard letter from Mona detailing her experience and story behind the tea.
Hand-drawn illustrations on the labels, inspired by Mona's travels 
The first 3 orders will also get a ceramic tile from Portugal, which doubles up as a tea coaster!
Size:
Two sample tea packs (5g & 10g). This gives 1~2 servings per tea. 
Tea Story
This summer I visited my first European tea farm! Nestled in Fornelo, Portugal lies a truly wonderful initiative. Started by a pair of winemakers, the farm is organic and biodiverse – alongside tea, they also grow apples, kiwis, oranges and more. Crafting tea with love and care in the Japanese style, they specialize in handmade green tea, and also offer uniquely Portuguese blends.

The two teas that stood out to me were their Port Wine barrel aged oolong tea, which I call Port Oolong, and their signature mid-spring flush green tea, which I call Fornelo Green. 
The Port Oolong simply blew my mind! I had never tasted anything like it - The barrel aging process truly adds another taste and aroma dimension to the tea. With an irresistible aroma of chocolate covered raisins and dessert wine, it brews a sweet and deep golden brew with notes of honey and ripe fruit: An experience that every tea (and wine) lover must try!
The Fornelo Green tea is made from start to finish in their farm following the Japanese style. It brews a light and fresh cup, with notes of seaweed and kale, a gentle morning dew and a sweet finish. A delightfully refreshing cup. 
I hope you'll enjoy them both!
Port Oolong Specs
MADE   Gaia, Portugal
CRAFT   Oolong tea that has been aged in a Port Wine barrel for 6 months
NOTES  Dessert Wine, Chocolate Covered Raisins, Berry, Woody, Honey
Brew Instructions
Gongfu Brew (Gaiwan): 5g | 150ml | 95°C | 1 min | +10 sec for additional brews | Can steep ~ 4 times
Western Brew (Mug / Teapot): 5g (1 Tbsp) | 350ml | 95°C | 2 min | + 1 min for additional brews | Can steep ~ 2 times 
Fornelo Green Tea Specs
ORIGIN  Fornelo, Portugal
CRAFT  Picked, steamed, fried, rolled & dried
NOTES  Seaweed, Kale, Morning Dew, Sweet Finish
Brew Instructions
Japanese Style Brewing (Kyusu): 5g | 150ml | 80°C | 3 steeps | 60, 30, 90 secs
Western Brew (Mug / Teapot): 3g (1 Tbsp) | 350ml | 80°C | 3 min | + 1 min for additional brews | Can steep ~ 2 times
Your Tea Moments