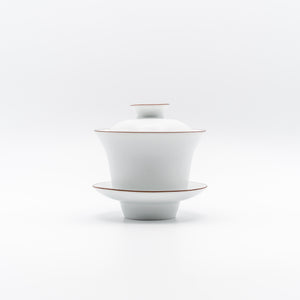 Gaiwan
Sale price Price $28.00 USD Regular price
Ahh... the ceramic Gaiwan. The world's most versatile "teapot" and our personal favorite. Simply slide the lid to filter the leaves and pour out the tea. Once you are versed in this style of brewing, you will want to brew everything in it. Because ceramic does not absorb flavors, you can use one Gaiwan for all your teas. Elegant, versatile and easy to clean.
We chose this particular gaiwan because it has a good shape with enough room for larger leaf teas (think Oolong) to unfurl, yet still fits in the hand nicely and is relatively lightweight. The wide brim brings out the aromas, and also gives enough space for your fingers to comfortably grip onto as you pour. White in color, our gaiwan makes it easy to visually evaluate the leaves and liquor color. We also love the matte finish and brown lining. A teawala essential. 
Looking for a set? Check out our fairness jug and matching teacups sold separately or together in a set.
Specs
Holds 150ml 
Comes with lid and saucer (as shown in photograph)
Gaiwan Size: 9.5cm diameter x 9.5cm height
Made from ceramic in Jingdezhen, China
Your Tea Moments