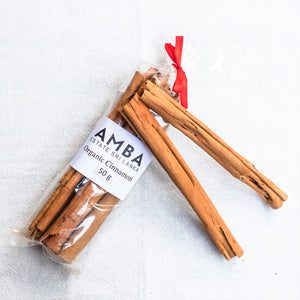 Ceylon Cinnamon
Sale price Price $9.00 USD Regular price
Ceylon Cinnamon Sticks
*Restocked for holiday season only*
Sri Lanka is home to the world's highest quality cinnamon, and these organic cinnamon sticks do not disappoint! Truly the best cinnamon we've ever tasted, with its spicy yet vanilla-like sweetness and incredible aromatics, we just had to get some for Christmas.
Infuse these sticks in hot water for a cinnamon tisane, use it as a stirrer for your chai, add it into your cooking to spice things up, nibble on it plain, or hang it on your Christmas tree to make the whole house fragrant.
You'll be able to tell from the texture, taste and aroma that these sticks are different. They're soft, easy to break and much sweeter in taste. That's because what's commercially available in supermarkets is not actually Cinnamon, but rather the Cassia spice. Read this article to learn more. 
Each pack includes: 50g of whole cinnamon (around 10 sticks), organically farmed at Amba Estate in Uva, Sri Lanka.
Harvested and dried in January 2021.
Seasonal item with limited availability. 
Your Tea Moments