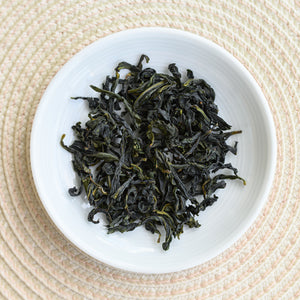 Baozhong
Sale price Price $20.00 USD Regular price
*New spring 2023 harvest has arrived!*
Taiwanese Lightly Oxidized Oolong Tea
A lightly oxidized Oolong made from the Qingxin cultivar, Baozhong (otherwise known as Wenshan Pouchong) is one of Taiwan's most delicate teas. Watch the individual leaves unfurl as they emit a pale green liquor and an alluring fragrance of fresh flowers.


With floral aromatics of gardenia and honeysuckle, and vegetal notes of garden pea, one sip will transport you to a fresh spring garden. Not to mention the soothing buttery mouthfeel.
We visited the Bai family's factory in Pinglin back in November 2019. Jacob, who is a 5th generation tea maker, toured us through his family's factory. Although the leaves had been processed days before, traces of the heavenly scent of fresh tea leaves still echoed throughout the room. We shared a home-cooked meal together and tasted their teas. Their family's hospitality was reflected in their well-crafted teas.  
We've selected their premium Baozhong, made from the Qingxin cultivar. Visually this can be identified by the emerald-green, distinct almond-shaped leaves, each lined with a red border - the sign of meticulous tossing or "yaoqing".
For those who enjoy floral teas like Silver Jasmine or White Peony, we know you'll love our Baozhong for its elegant, floral and soothing profile. 

Tea Specs
PICKED  April 2023 (Spring Harvest)
ORIGIN  Pinglin, Taiwan | The Bai Family
LEAF  Qingxin Cultivar
CRAFT  Picked, withered, tossed, fried, rolled (strip-style) & lightly roasted
NOTES  Gardenia, Honeysuckle, Garden Pea, Buttery
BENEFITS Clarity & Calm
CAFFEINE Yes
Brew Instructions
We recommend brewing in a Gaiwan for this tea, but it can also be enjoyed Western style. 
Gongfu Brew (Gaiwan): 5g | 150ml | 95°C | 40 sec | +10 sec for additional brews | Can steep ~ 6 times
Western Brew (Mug / Teapot): 3g (1 Tbsp) | 350ml | 95°C | 3 min | + 1 min for additional brews | Can steep ~ 3 times
Cold-Brew (Pitcher): 12g | 750ml | Room temp | 8 hours in fridge | Strain & Serve (read more here)
Farm Story
Jacob and his brother are 5th generation tea makers, who learned the craft from their father. As teenagers, they weren't interested in the family business, but it eventually dawned on them that their father would soon grow old and therefore need somebody to continue their family's legacy and tradition. They decided to take on the responsibility.
With years of careful coaching, they learned the craft and developed their taste palates. They now run the business with a newfound respect and appreciation, earning annual tea awards both locally and abroad; they strive to be the best year after year. A truly inspiring story that brings us hope for Taiwan's tea future. 
Your Tea Moments