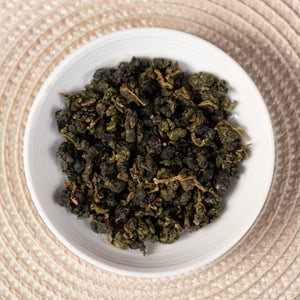 High Mountain
Sale price Price $19.00 USD Regular price
Taiwanese Alishan High Mountain "Gaoshan" Oolong Tea

Taiwan is known around the world for its outstanding oolongs. Locally, teas grown over 1000m elevation are classified as "High Mountain" or Gao Shan and are extremely prized. Due to thin air at high altitudes, the growth is slower and the yield is lower, but the result is truly exceptional. 

During my travels to Taiwan, I was welcomed in by a family in Alishan that has been producing high mountain oolong for over 30 years. From picking and withering, to tossing, frying and rolling, the family let me witness and experience the entire 48 hour process. With a picturesque "sea of clouds" or Yunhai rolling in at various times throughout the day, bringing moisture to the tea plants, the scene was ever-evolving in the Alishan tea hills. The taste and depth of this handcrafted Qingxin oolong reflects this complex and beautiful ecosystem.
We've selected a lighter roast level to showcase the fresh, high mountain taste. For those who enjoy savory green teas, this is one to try! Taste the vegetal, roasted notes that are typical of a green tea, but the depth of an Oolong and a clean finish that is characteristically high mountain. 
Awarded a 4.5/5 rating on Canadian tea blog Tea in Spoons. Read Connie's review of our High Mountain here. 
Tea Specs
PICKED  April 2022 (Spring harvest)
ORIGIN  Alishan, Taiwan | 1350m Elevation | The Deng Family
LEAF  Qingxin Cultivar | 1 half open bud & 2-3 leaves
CRAFT  Picked, withered, tossed, fried, ball-rolled & charcoal-roasted
NOTES  Vegetal, Roasted Chestnut, Clean Finish
BENEFITS Rich in minerals and vitamins
CAFFEINE Yes
Brew Instructions
We recommend brewing in a Gaiwan or Yixing Teapot for this tea, but it can also be enjoyed Western style. 
Gongfu Brew (Gaiwan): 4g | 150ml | 95°C | 1 min | +20 sec for additional brews | Can steep ~ 6 times
Western Brew (Mug / Teapot): 5g | 350ml | 95°C | 2 min | + 1 min for additional brews | Can steep ~ 3 times
Cold-Brew (Pitcher): 12g | 750ml | Room temp | 8 hours in fridge | Strain & serve
Farm Story
The tea master behind our High Mountain oolong, Mr. Deng, and his wife, son and daughter were incredibly hospitable and proud to share their craft. Mr Deng is self taught and learned the art of tea making 30 years ago, and is now training his son and daughter.
Watching them carry out the steps, they would often work into late hours of the night, since producing oolong is very time-sensitive and they do everything in small batches. To finish the tea, Mr. Deng slow-roasts it over charcoal ash: A traditional method that produces a consistent and high quality roast. A true testament to their passion, pride and hard work.
Harvested only twice a year, the winter harvest (November) is celebrated for more body and aftertaste, while the spring harvest (April) is more about the aroma. See if you can notice the subtle differences in season. A fun way to test your taste palate!
Your Tea Moments