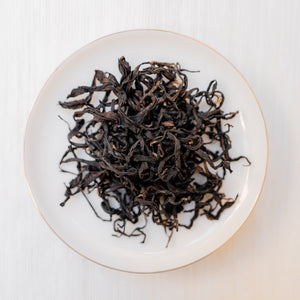 Khiri Gold
Sale price Price $15.00 USD Regular price
Thai Award Winning High Mountain Black Tea
Beautiful, delicate, exceptional: This tea was love at first sip.
Displaying an enticing honey aroma that presents itself from the very beginning until the end, notes of juicy summer fruits, a bouquet of fresh lilies, silky texture, and a sweetness that echoes and lingers, Khiri Gold poses a pleasant surprise that is different to any other black tea we've experienced.
Hailing from the mountainous region of Mae Salong at the Wang Put Tan tea estate, the tea maker P' Nakorn selected their prime #17 oolong cultivar and crafted it into a black tea. The resulting tea is a beacon of the quality and terroir of Mae Salong and leads a new direction for the region, pivoting masterfully from their characteristic oolong teas. Read the full story in the "farm story" section below.
It is precisely because we feel this tea represents Mae Salong at its finest that our illustration proudly features the golden Santikhiri temple perched above the village, which we sketched while hiking there one morning, and the Put Tan flower (cotton rose): a color-changing flower that adorns the front of the Wang Put Tan family house and tea garden.
Before submitting this tea to a competition in Japan, the tea maker let it breathe for a couple years, to allow for more complexity and depth to develop. Differing from most black teas, Khiri Gold can be stored and aged, only getting better with time. It eventually went on to win the grand gold prize in 2021.  
We can't wait for you to try this tea – A true gem! We hope it will also blow you away as it did for us, and that it will broaden your horizons in the realms of black tea and Thailand's teas.
Tea Specs
PICKED  Nov 2018
ORIGIN  Wang Put Tan, Mae Salong, Thailand | Grand Gold Prize Winner
LEAF  #17 Ruanzhi Cultivar | 1 bud 2-3 leaves 
CRAFT  Handpicked, withered, rolled (strip style) & dried
NOTES Honey, Stewed Apricots, Cantaloupe, Lily
CAFFEINE Yes
Brew Instructions
We recommend brewing in a Gaiwan for this tea, but it can also be enjoyed Western style, and cold-brewed:
Gongfu Brew (Gaiwan): 5g | 150ml | 85°C | 1 min | +10 sec for additional brews | Can steep ~ 6 times
Western Brew (Mug / Teapot): 3g (1 tbsp) | 350ml | 85°C | 2 min | + 1 min for additional brews | Can steep ~ 3 times 
Cold-Brew (Pitcher): 12g | 750ml | Room temp | 8 hours in fridge | Strain & Serve
Farm Story
Khiri Gold was the first tea I was excited about on my trip to Thailand. I met the tea maker's sister P' Yee in a Bangkok teahouse through a tea friend.
After one of the meetups, P' Yee invited me back to her hotel and brewed her brother's tea, the Khiri Gold, while sharing the story of Mae Salong village and her personal experience growing up with Yunnan-Thai heritage. I loved the tea upon first sip – with its syrupy honey notes and delicate fruity, floral aromas, unlike any other I'd tried. Learning about the history of the Yunnan-Thai people only made this feeling deeper. She had gifted me a canister of the tea, so I continued brewing and getting acquainted with the tea while I was in Bangkok.
A few weeks later, after Songkran festival ended, I traveled north to Mae Salong and stayed at her family's farm, Wang Put Tan. I got to see the stunning mountains where Khiri Gold is grown and hear the story behind the tea from the maker himself, her older brother P' Nakorn.
Mae Salong is known for growing Taiwanese cultivars and producing Taiwanese style oolongs. However, P' Nakorn emphasized that after many decades, Thailand's terroir now had its own unique flavors to offer – in particular the honey aroma – and stressed that Thailand would always be one step behind if they solely followed in Taiwan's direction. With the vision of highlighting and paying tribute to Thailand, he created a black tea named Khiri. 
Taking what he felt was the best character from the soils and cultivars of Mae Salong through careful thought and craft, and after many failed experiments, he finally reached a black tea he loved. He named it "Khiri" – intentionally choosing the Thai word for high mountain, as well as part of the village's alternative name "Santi Khiri" meaning peaceful mountain, to honor Mae Salong. He submitted it to a Japanese tea competition and, with much happiness, received a grand gold award for it: A proud moment for their family and the community.
I chose to name the tea Gold because of its gold tips, the gold prize it won, and the gold color of the Buddhist temple perched atop the mountain - a symbol of Mae Salong.
Tasting Khiri Gold tea from Wang Put Tan plantation
Your Tea Moments