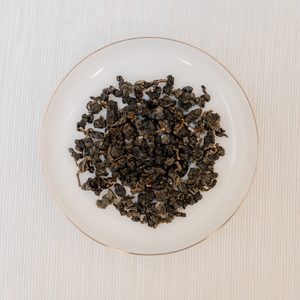 Rice Oolong
Sale price Price $13.00 USD Regular price
*Re-stocked!*
Thai Sticky Rice Herb Oolong Tea

If you're like us and love pandan desserts, this tea is for you!
We're talking about pandan chiffon cake, coconut pudding in pandan leaves, pandan-coconut layered jelly and a host of treats featuring a vibrant green color and aromas reminiscent of warm vanilla, sweet grass and sticky rice.
Our newest blend, Rice Oolong, is a mix of oolong tea and the sticky rice herb known locally as Nuo Mi Ye in northern Thailand (and Yunnan). The result is a soothing, creamy and comforting tea that we crave on rainy, moody days.
It's also a tea that we feel is quite special and representative of Thailand. While the sticky rice herb does not contain rice itself, the locals call it that due to its naturally sweet aroma of sticky rice, and what reminds us of pandan leaf - both proud ingredients of Thai cuisine. One hint of this aroma immediately transports our minds to a Thai dessert market.
The craft itself is also unique: Unlike most blends where the ingredient is introduced and mixed in only at the end, both the tea and the herb go through the entire tea process together from start to finish! Because of this, the leaves appear virtually the same when dry: green and tightly ball-rolled. It is only once the leaves have been brewed that we are able to differentiate between the darker green, cut leaves (the sticky rice herb), and the lighter green leaf sets (oolong tea), making the brewing experience all the more fun.
We recommend playing around with the flavors of Rice Oolong through food and dessert pairings as well as different brewing styles: It pairs fantastically with coconut flavors, such as coconut ice cream and warm coconut tarts. We also enjoy this blend over ice – drawing our minds to the cooling pandan jelly we love so dearly.
Tea Specs
BLENDED April 2022
ORIGIN  101 Tea, Mae Salong, Thailand | 1000m Elevation
LEAF  Jinxuan Oolong Cultivar & Sticky Rice herb (Nuo Mi Ye)
CRAFT  Picked, withered, tossed, fried, ball-rolled & roasted | Herb & Oolong tea leaves go through this entire process together
NOTES  Pandan, Sticky Rice, Macadamia, Creamy
CAFFEINE Yes
Brew Instructions
We recommend brewing in a Gaiwan for this tea, but it can also be enjoyed Western style.
Gongfu Brew (Gaiwan): 5g | 150ml | 90°C | 40 sec | +10 sec for additional brews | Can steep ~ 5 times
Western Brew (Mug / Teapot): 5g (1 tsp) | 350ml | 90°C | 2 min | + 1 min for additional brews | Can steep ~ 3 times
Cold-Brew (Pitcher): 12g | 750ml | Room temp | 8 hours in fridge | Strain & serve
Tasting Rice Oolong from 101 Tea Plantation (Mae Salong)
Your Tea Moments