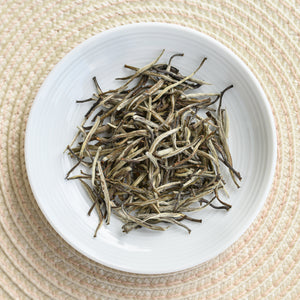 Silver Jasmine
Sale price Price $15.00 USD Regular price
Jasmine Scented Silver Needle White Tea

In July 2019, we re-visited our White Peony producer in Zhenghe, Fujian to catch a glimpse of their rare jasmine tea production. Done only once a year in the summer, when jasmine flowers bloom, the traditional scenting process is an exciting display of craftsmanship. 
Delicate silver needles (white tea) are scented with several batches of locally-grown jasmine flowers over a one month period, by hand. You can watch the unique process in our blog post here.
Exuding a heavenly floral aroma, with sweet notes of honeydew melon, and a cooling, cucumber finish, the resulting Silver Jasmine is sensory delight. One sip of this pale ivory infusion fills us with a sense of calm, almost as though we've laid our head to rest on a soft pillow.
Each time we receive a fresh summer batch, we are mesmerized! A delightful brew to sip on as it cools, it also tastes exquisite cold-brewed. 
Tea Specs
ORIGIN  Zhenghe, Fujian, China | Tea Master Yang
SCENTED  August 2021
LEAF  Silver Needle (Bud only) | Fu'An Da Bai Cultivar 
CRAFT  Tender buds picked during the onset of spring, naturally withered & sun-dried. Then scented with fresh jasmine flowers in summer. Hand-scented using the traditional method over a 1 month period using multiple batches of fresh flowers. 
NOTES Soft, Floral, Cucumber, Melon
BENEFITS Gentle & Soothing
CAFFEINE Yes
Brew Instructions
We recommend brewing this delicate Silver Jasmine in a Gaiwan, or you can show off the beautiful buds by brewing directly in a glass pitcher and enjoy watching the buds stand on end. 
Gongfu Brew (Gaiwan): 4g | 150ml | 80°C | 1 min | +10 secs for additional brews | Can steep ~ 6 times
Western Brew (Mug / Teapot): 3g (1 Tbsp) | 350ml | 80°C | 3 min | + 1 min for additional brews | Can steep ~ 3 times 
Cold-Brew (Pitcher): 12g | 750ml | Room temp | 8 hours in fridge | Strain & Serve
Farm Story
Led by Tea Master Yang, Longhe Tea Co was created with the vision of bringing the traditional craft of white tea back to the Zhenghe region. Competing with the neighboring Fuding region, they produce some of Zhenghe's finest white teas and are committed to tea education. You can read about our experience there in this blog post.
While Jasmine tea typically uses green tea as a base, we've carefully selected a Jasmine tea made from a fine white tea, showcasing the regional flavors of Zhenghe. The gentle sweetness and premium quality of the Silver Needle translates into a very soft and delicate Jasmine tea, and enhanced sensory experience. Try it for yourself and see if you can taste the difference!
Your Tea Moments