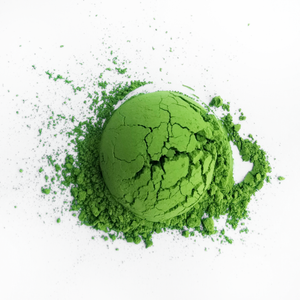 Uji Matcha
Sale price Price $35.00 USD Regular price
Japanese (Uji) Matcha - First Flush
100g per bag.
We've been stocking this matcha for our wholesale customers and matcha-obsessed friends for years, and we're excited to finally make it available to you online!
Sourced directly from a third-generation tea maker in Uji, Kyoto, whom we visited in 2016, we selected this particular matcha for its freshness, quality, vibrance and versatility. It's earthy yet sweet, energizing yet comforting - truly one of the best ways to start the morning. Its great both on its own and in lattes. 
For a refreshing and tangy twist on traditional matcha, try our Matcha lemonade recipe!
Warning: Incredibly addicting. Order at your own risk ;)
Tea Specs
ORIGIN  Uji, Kyoto, Japan | Traditional stone mill
LEAF  1st flush Tencha | Shade-grown
CRAFT  Shade-grown, picked, steamed, dried & stone-milled into powder
NOTES  Earthy, Grassy, Refreshing, Sweet Aftertaste
CAFFEINE Yes
Brew Instructions
We recommend whisking with a traditional bamboo whisk (chasen), but a hand-held frother also works. You can even prepare iced matcha with a lidded mason jar or cocktail shaker!
If you have a whisk:
Whisk (bowl): 2g (1 tsp) | 80ml | 85°C | Sift powder into a bowl. Add 85°C water and whisk vigorously for 20-30sec until smooth and frothy.
If you don't have a whisk:
Same as above but substitute whisk for a hand held electric frother, or ice-brew with a mason jar / cocktail shaker (read below)!
Ice-Brew (Lidded mason jar or cocktail shaker): 2g (1tsp) | 300ml cold water | 5-6 ice cubes | Close lid and shake in mason jar or cocktail shaker for 10-20sec until dissolved and foamy.
Pairing (optional): A sweet confection, like mochi!
Storage: Once opened, we recommend keeping matcha in the fridge.



Your Tea Moments