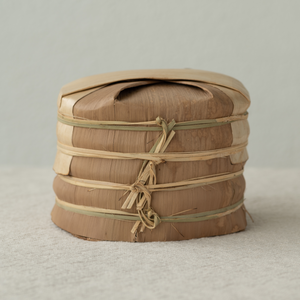 Tong of Tea Cakes (Yunnan Black)
Sale price Price $155.00 USD Regular price
Wrapped in traditional bamboo wrapping, as is common practice in Yunnan, tongs are always a delight to open. Inside ours you'll find 5 tea cakes of sun-dried black tea (Yunnan Black), made from the leaves of large tea trees naturally cultivated in Zhanglang, Xishuangbanna (Yunnan) and hand processed by the indigenous Bulang people into a mellow and enchanting black tea that gains depth and character over the years.
Holding it in our hands feels like holding generations of tradition and wisdom, worlds apart from our modern world. A treasure for any gongfu tea lover. 
Keep the tong unopened to age the tea over time (if you have the discipline!) or unravel it and enjoy.
Watch us open one in the video below. 
Each cake contains 200g of tea. One tong holds 5 tea cakes, therefore containing 1kg of tea in total.
Your Tea Moments