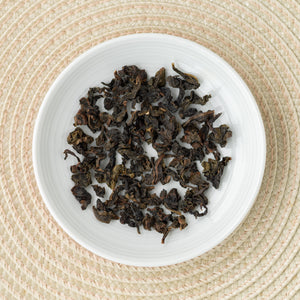 Dark Roast Tieguanyin
Sale price Price $19.00 USD Regular price
We visited the beautiful tea region of Xiping, Anxi in Spring 2019 - the famous birthplace of Tieguanyin. 

Founded in 1726 and family-owned for 13 generations, Defeng plantation of Xiping township is dedicated to making traditional Tieguanyin from the heirloom Hongxin cultivar. We toured their sprawling organic plantation, protected area boasting a mother tree, and factory where their teas are traditionally crafted, ending with a farm-fresh tea tasting.
We absolutely love their Tieguanyin, with complex fruity notes, a lingering sweetness, and the warm feeling it gives us. We also enjoy appreciating the crimson color of the wet leaf, unique to traditional Hongxin cultivar. We've selected their dark roasted Tieguanyin ("nongxiang"), which has been crafted in the traditional style, drawing on a longer bake time to produce richer, more fruity-sweet notes. Perfect for cold days.
Harvested only twice a year, the autumn harvest (October) is celebrated for more body and aftertaste, while the spring harvest (April) is more fruity-fragrant. See if you can notice the subtle differences in season with our 30g + 30g Spring vs. Autumn sampler. A fun way to test your taste palate!
Tea Specs
PICKED  Oct 2021 (Autumn harvest)
ORIGIN  Anxi, Fujian | Est. 1726 | The Wang Family
LEAF  Hongxin Cultivar | 1 half open bud & 2-3 leaves
CRAFT  Picked, withered, basket-tossed, fried, rolled & baked 
NOTES  Baked Fruits, Sweet Plum, Honey-glazed Walnuts
CAFFEINE Yes
Brew Instructions
We recommend brewing in a Gaiwan or clay teapot for this tea, but it can also be enjoyed Western style. 
Chinese Brew (Gaiwan / Clay Teapot): 7g | 150ml | 95°C | 20 sec | +5 sec for additional brews | Can steep ~ 8 times
Western Brew (Mug / Teapot): 4g | 350ml | 95°C | 3 min | + 1 min for additional brews | Can steep ~ 3 times
Your Tea Moments