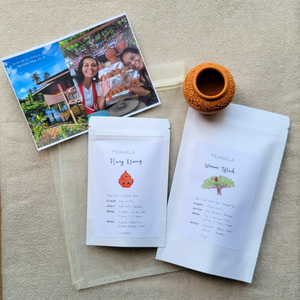 Mon Pottery Tea Mail
Sale price Price $18.00 USD Regular price
*Limited offering*
First 8 orders get a mini clay vase!
Included in this Tea Mail: 
1 pack of Wawee Black (award-winning black tea) sourced from a tea farm in Doi Wawee, Northern Thailand
2 sachets of Rang Daeng (traditional Thai herbal tea), sourced from a grower in Koh Kret, Thailand
A postcard letter from Mona detailing her experience and story behind the tea.
Hand-drawn illustrations on the labels, inspired by Mona's travels
The first 8 orders will receive a unique Mon pottery piece made by Auntie Tiaow - A mini vase, which doubles up as a plant holder.
Size:
Two sample tea packs (15g & 2 sachets). This gives 2~3 servings per tea. 
Tea Story
Just a boat ride across the Chao Praya river in Thailand sits an island called Koh Kret, which is home to the Mon people. I visited the island in October and felt like I'd traveled back in time to old Bangkok. Most of the houses are on stilts, and it is a sleepy island which comes alive on weekends with its market and pottery villages.
I got to try my hand at the pottery wheel alongside a Mon Potter named auntie Tiaow! Her ancestors came from Myanmar and settled in Thailand in the 1800's. Pottery has run in her family for generations - she has been practicing it since she was a little girl. It was a privilege to spend the morning together at the wheel. She also let me carve lids under her supervision, and her joy was infectious.
Besides pottery, Koh Kret island is also known for producing a herbal tea called Cha Rang Daeng (or Laurel Clockvine). It is believed to help detox and lower blood pressure. I visited the home where it's grown and processed. It smelled like freshly roasted hojicha - just divine! I knew I had to source some for you.
I hope you'll enjoy this tea mail!
If you're interested a larger piece of Mon Pottery (Chedi tealight candle holder), please see our Thai potter pre-order!
Wawee Black Specs
PICKED  March 2021
ORIGIN  Doi Wawee, Northern Thailand
CRAFT   Tea leaves from Ancient tea trees (normally used for making Pu'er) are plucked, withered, sun-dried and rolled into a black tea. A very natural process leading to a mellow and fruity cup.
NOTES  Chocolate, Cherry, Dried Apricot, Bamboo
Brew Instructions
Gongfu Brew (Gaiwan): 5g | 150ml | 95°C | 20 sec | +5 sec for additional brews | Can steep ~ 5 times
Western Brew (Mug / Teapot): 5g (1 Tbsp) | 350ml | 95°C | 2 min | + 1 min for additional brews | Can steep ~ 3 times 
Rang Daeng Specs
PICKED  Sept 2023

ORIGIN  Koh Kret, Nonthaburi, Thailand

CRAFT  Made from 100% traditional Thai herb known locally as "Rang Daeng". Believed to reduce blood pressure and aid in detoxing.
NOTES  Hojicha, Toasted Barley, Pecan Pie, Caramelized Sugar
Brew Instructions
Western Brew (Mug / Teapot): 1 sachet | 350ml | 98°C | 3 min | + 1 min for additional brews | Can steep ~ 3 times
Cold Brew (recommended!): 1 sachet | 350ml | Room temp water | Refrigerate for 8-10 hours
Your Tea Moments