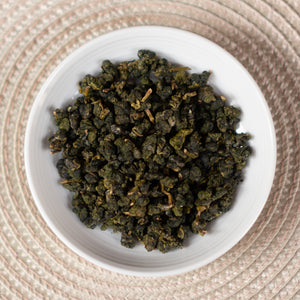 Milk Oolong
Sale price Price $18.00 USD Regular price
*New Spring 2023 harvest just arrived!*
Taiwanese Ball-Rolled Oolong Tea

With a seductively creamy aroma and floral backdrop that dances on your palate, this gem was discovered on our travels to Taiwan. It was true love at first sip. 

Famous for its naturally buttery mouthfeel, Jin Xuan - known around the world as Milk Oolong - is a Taiwanese tea cultivar developed in the 80's. While it is unfortunately often artificially flavored for consumption abroad, our Milk Oolong is the original, all-natural Jinxuan tea, simply drawing on a longer oxidation period to enhance its inherent milky flavours.
Watch as each individual ball unfurls into a perfect leaf-set, steeping a beautiful amber green liquor in your cup. Sniff the empty cup to really enjoy the interplay of nutty-ness, warm milk and fresh flowers – it's quite an addictive aroma! Perfect for milk tea lovers who want to transition into pure teas. 
Tea Specs
PICKED  April 2023 (Spring harvest)
ORIGIN  Shanlinxi, Taiwan | 1000m Elevation 
LEAF  Jinxuan Cultivar | 1 half open bud & 2-3 leaves
CRAFT  Picked, withered, tossed, fried, ball-rolled & roasted
NOTES  Caramel Fudge, Hazelnut, Creamy, Orchid
BENEFITS Boosts mental alertness
CAFFEINE Yes
Brew Instructions
We recommend brewing in a Gaiwan for this tea, but it can also be enjoyed Western style. 
Gongfu Brew (Gaiwan): 4g | 150ml | 95°C | 1 min | +20 sec for additional brews | Can steep ~ 6 times
Western Brew (Mug / Teapot): 5g | 350ml | 95°C | 2 min | + 1 min for additional brews | Can steep ~ 3 times
Farm Story
Our Milk Oolong has been sourced directly from a 3rd generation producer in Shanlinxi, Taiwan. At 1000m elevation, their tea farms are interwoven with bamboo forests: The best of Shanlinxi terroir. They use the artisanal method of ball-rolling tea, using cloth bags to roll the tea in small batches - a dying art in Taiwan.  
We visited in November 2018, just after Winter harvest, and were immediately excited about their Milk Oolong. Among all the oolongs we tasted on that trip, it stood out as a top contender, with its distinctively creamy aroma. We followed our gut to source it and it is now a favorite among teawala fans!
Your Tea Moments