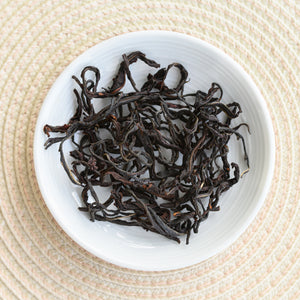 Ruby Red
Sale price Price $18.00 USD Regular price
*New harvest has arrived!*
Taiwanese Black Tea

Surrounded by tall Areca palm trees, the Puli tea region of central Taiwan is a short drive away from the Sun Moon Lake. This lush terroir is home to some of Taiwan's best black teas. 

With cooling notes of peppermint and eucalyptus, spicy undertones of clove, and a floral frangipani aroma, our Ruby Red is a true Nantou gem. If you haven't tasted it before, this tea will have you questioning your entire notion of black tea. Infusing a clear, coppery gold liquor, it's an exciting and complex tea that we love to drink in the summer because of its refreshing qualities. 
Ruby Red - also referred to as Sun Moon Black, Red Jade, or #18 - is made from the Hong Yu #18 cultivar: A hybrid between a native Taiwanese tea variety and an Assamica varietal from Burma. The resulting leaf has a distinct curvy shape and produces a black tea that is loved for its hallmark cooling and minty qualities. 
We had the pleasure of meeting a 3rd generation tea maker named Hank Kuo in November 2019. He graciously showed us around his family's factory and farm, and gave us a memorable tea cupping experience. His passion for tea was extremely evident then and still is in all our communications. 
We've selected one of his highest grade teas, handpicked and made in small-batches, resulting in an elegant, light and invigorating tea. A delicate take on the much-loved Ruby tea. 
While the summer harvest (June) is more balanced with cacao and floral notes, we find the winter harvest (November) more aromatic, with pronounced cooling tones of peppermint and eucalyptus.
For a ruby-infused fall mocktail, check out our Persimmon Tea-Collins recipe!
Tea Specs
PICKED  November 2022 (Winter Harvest)
ORIGIN  Puli, Nantou, Taiwan | The Kuo Family
LEAF  Hongyu #18 Cultivar | 1 bud 2-3 leaves 
CRAFT  Handpicked, withered, rolled (strip style) & dried
NOTES Peppermint, Eucalyptus, Frangipani, Clove, Cacao
BENEFITS Energy and focus
CAFFEINE Yes
Brew Instructions
We recommend brewing in a Gaiwan for this tea, but it can also be enjoyed Western style. 
Gongfu Brew (Gaiwan): 5g | 150ml | 90°C | 40 sec | +10 sec for additional brews | Can steep ~ 6 times
Western Brew (Mug / Teapot): 3g (1.5 Tbsp) | 350ml | 90°C | 4 min | + 1 min for additional brews | Can steep ~ 3 times 
Cold-Brew (Pitcher): 12g | 750ml | Room temp | 8 hours in fridge | Strain & Serve
Food pairings: Pairs well with fresh pineapple slices (read more here)
Farm Story
Hank is a 3rd generation tea maker in Puli, Taiwan. His grandfather, Mr. Kuo Shaosan, started the business back in 1939 after discovering a large-leaved Shan varietal in Northern Thailand and planting it in Taiwan. Their black tea was renowned for exceptional quality and had been enjoyed widely. Unfortunately, due to the impact of competitive imports, the factory had to shut its doors in the 80's.
Fast forward to 2011 - Hank decided to leave his city life and return to Puli with a vision of bringing his grandfather's tea factory back to life. He's been successfully running the business ever since, bringing the art of black tea and his family's legacy back to Nantou county. Although tea-making methods have evolved over the decades, he still preserves many of the original vintage equipment as an ode to his grandfather. 
Inspired by the world of black tea, Hank also spent time in Darjeeling studying their tea production methods. With a preference towards lighter, more aromatic teas, Hank's teas continue to be influenced by this style.
Your Tea Moments