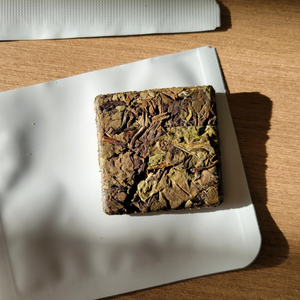 Shou Mei Mini's
Sale price Price $9.00 USD Regular price
White tea compressed into 'mini biscuits' (小饼干)for fun and easy brewing! We love the way each piece feels in our hand. Pre-portioned, these make the perfect daily drinker. Simply drop a piece into your brewing vessel, add hot water, and enjoy!
Shou Mei is one of our go-to comfort teas - Using larger leaves lower down on the plant, it's a darker white tea with ripe-fruity and honey notes against a warm, baked bread aroma. 
~5g per piece. Good for 1 serving (brews multiple times).
We recommend rinsing the 1st brew to allow the pressed tea to open.
Tea Specs
PICKED Autumn 2020 | PRESSED 2021
ORIGIN  Zhenghe, Fujian, China

LEAF  Fu'an Dabai Cultivar | 1 bud 2-3 leaves (Shou Mei picking)
CRAFT Handpicked, naturally withered, sun-dried / charcoal-dried & pressed. 
NOTES  Honey, Fig, Jujube Dates, Freshly Baked Bread, Graham Crackers
CAFFEINE Yes
Brew Instructions
We recommend brewing this tea in a Gaiwan. Alternatively, try cooking it over the stove on for a heartier brew with warming tones of biscuits and jujube dates.
Gongfu Brew (Gaiwan): 1 piece (4-5g) | 150ml | 95°C | 20 sec (rinse 1st brew) | +10 secs for additional brews | Can steep ~ 6 times
Western Brew (Mug / Teapot): 1 piece (4-5g) | 350ml | 95°C | 2 min | + 1 min for additional brews | Can steep ~ 3 times
Zhucha (over the stove): 1 piece (4-5g) | 500ml | boiling water on medium heat | 5mins | Add honey to taste (optional)
Farm Story
Led by Tea Master Yang, Longhe Tea Co was created with the vision of bringing the traditional craft of white tea back to the Zhenghe region. Competing with the neighboring Fuding region, they produce some of Zhenghe's finest white teas and are committed to tea education. You can read about our experience there in this blog post!
We stayed on this tea farm as a volunteer, experiencing first-hand all the white tea processing steps: from picking and withering, to drying, sorting and even planting new seedlings. We are so honored to share their signature teas with you - White Peony, Silver Jasmine & Shou Mei Mini's. 
Your Tea Moments