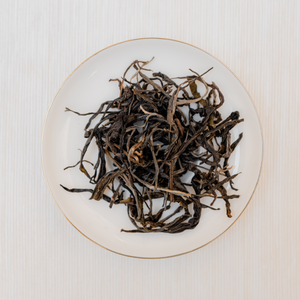 Wawee Gushu
Sale price Price $12.00 USD Regular price
Thai Ancient Tree Gu Shu Raw (Sheng) Pu'er

Grown in the vast, ancient forests in the northern tip of Thailand, with large trees of over four hundred years in age and cared for by both the Yunnan-Thai people and Akha hilltribes, this is Thai Gushu Pu'er.
When we first opened the box at the factory, our nose filled with delight - We were drawn in by the smell of dried fruit, bringing to mind the sweet and sourness of preserved plum and hawthorn berries – like the Fa Mui and Haw Flake candies we grew up eating in Hong Kong.
We asked the tea maker if we could taste this tea side by side with the pre-Qing Ming raw pu'er. In a memorable comparison, we followed our gut and chose the post-Qing Ming batch for its punchier and more aromatic qualities.
While in Doi Wawee, we got to hike through, climb into, and pick from the magnificent ancient tea trees, which was an absolute treat! Additionally we experienced making raw pu'er at their factory first-hand! In comparison to the pu'er making we had seen in Yunnan, what stood out was the softer, more gentle roll applied to the leaves (it reminded us of a gentle massage). We also enjoyed getting our hands sticky with tea leaf juices when scattering the rolled leaves onto bamboo mats for sun-drying. It was a privilege to work alongside their resident tea master, Auan, who had been honing his craft for four years, applying love, care and precision into each batch.
When brewed, this tea produces an amber liquor with white hairs from the tender buds, and an initial juicy fruitiness followed by more raw bamboo and forest floor notes as the brews progress. We enjoy the characteristically drying, cooling effect and effervescent feeling on the tip of the tongue. With a satisfyingly bitter bite, followed by a strong hui gan (returning or lingering sweetness) as well as the salivating effect that we expect from a good sheng pu'er, this Wawee Gushu provides an interesting experience for those looking to taste the terroir of Thailand, and Doi Wawee in particular.
For an extra fun comparison, try his wife's Siam Silver! They use the same leaf material but adjust the craft to produce two very different teas.
Tea Specs
PICKED  April 2022 | Post-Qing Ming & Pre-Songkran
ORIGIN  Aran Tea, Doi Wawee, Thailand
LEAF  Thai Assamica large leaf varietal | Gu Shu (ancient tea trees 400+years old) | Bud and 2 leaves
CRAFT  Picked, short-withered, fried, rolled & sun-dried
NOTES  Preserved Plum, Haw Flakes, Wild Chrysanthemum, Forest
CAFFEINE Yes
Brew Instructions
We recommend brewing this tea in a Gaiwan or yixing teapot, to showcase the different layers and nuances.
Gongfu Brew (Gaiwan): 8g | 150ml | 98°C | 10 sec | +5 secs for additional brews | Can steep ~ 10 times
Western Brew (Mug / Teapot): 3g (1 tbsp) | 350ml | 98°C | 1 min | + 20 sec for additional brews | Can steep ~ 4 times
Tasting Wawee Gushu from Thailand
Your Tea Moments