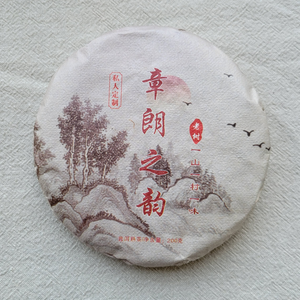 Ripe Pu'er
Sale price Price $52.00 USD Regular price
*New offering*
There's nothing quite as satisfying on a cold winter day as ripe pu'er.
Dark, rich and comforting, it warms the soul and calms the digestive system. Specifically, ripe pu'er is believed to aid digestion and improve gut health due to its probiotic content. 

I've sourced this well-made ripe pu'er cake from Mr. Ai in Zhanglang (maker of Yunnan Black and Bulang Gushu) that is clean and smooth. I hope you will love it too!
Tea Specs
PICKED  Oct 2018  PRESSED  June 2021
ORIGIN  Zhanglang, Xishuangbanna, Yunnan | Bulang People
LEAF  Da Ye varietal, Da Shu (big tea trees 50 ~ 100 years old) | Bud and 3 leaves
CRAFT  Picked, short-withered, wok-fried, rolled, sun-dried and wet piled (post-fermentation). Pressed into cakes. 
NOTES  Earthy, Warming, Rich, Sugarcane
BENEFITS May aid digestion
CAFFEINE Yes
Brew Instructions
We recommend using a Gaiwan to brew ripe pu'er.
Gongfu Brew (Gaiwan): 5g | 150ml | 98°C | Rinse 1st brew | 10 sec | +5 secs for additional brews | Can steep ~ 8 times
Western Brew (Mug / Teapot): 5g | 350ml | 98°C | 30 sec | + 10 secs for additional brews | Can steep ~ 4 times
Farm Story
Bordering Myanmar, Zhanglang village is home to the Bulang ethnic minority who have been practicing their age-old pu'er-making traditions for thousands of years.
We met this producer and family by pure chance, simply stumbling upon their modest processing facility during our stay in the tea village. Like many of the tribes in this tea region, this family has owned and protected its ancient tea trees for several generations, cultivating its precious leaves using age-old traditions together as a family. 
We observed as the family processed tea until the evening when Mr. Ai and his wife began frying pu'er leaves over a wok. It wasn't until the next day when he gave us a ride into town that he gifted us this magnificent Ripe Pu'er cake, wrapped in a gorgeous paper wrap.
This tea's complex flavors and digestive properties are enhanced with age. Store it in a dry, shaded place and enjoy the changes in taste and benefits over the years. Don't let the cake form intimidate you - Once you practice breaking pieces off a few times, it's actually a very convenient way to store and drink tea.
Your Tea Moments