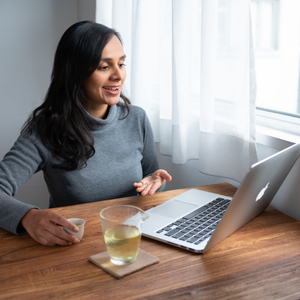 Virtual Tea Tasting
Sale price Price $58.00 USD Regular price
Share a virtual cup of tea with friends.
We are excited to take our tea tastings online! Enjoyed in the comfort of your own home at a time that works for you, this virtual tea tasting is perfect for your next socially distanced get-together. In this 1.5 hour-long experience, we will brew and taste a selection of our farm-sourced teas that are included with the tasting and mailed to you in advance, transport you to their origins, answer your tea questions, and guide you through brewing techniques using the teaware you have at home.
*Minimum 10 participants*
What's included
A Starter Tea Sampler (including 6 tea samples) for each participant
A 1.5 hour online tasting experience led by Mona, where 3 pre-selected teas will be brewed
Printable tasting materials
How it works
Purchase a tasting ($58 per person).
The tea sampler will be mailed to your home.
Once the teas arrive, send us an email to reserve the date and time for your tea tasting, and select the 3 teas you'd like us to brew together. 
You will receive email reminders ahead of time with the Zoom link and printable tasting materials!
Depending on your location, the teas are shipped from either the U.S. or Hong Kong. See here for estimated ship times to your country.
If your group is located across multiple cities, or you have a particular date in mind, please fill in this short form first so we can make sure your needs are met.
FAQ
What will I need for the tasting?
Whether you are a beginner or an experienced tea drinker, we are happy and excited to guide you through our teas! For the tasting you will need: Drinking water, a teapot or mug with tea strainer/infuser, and a kettle.
If you are in need of teaware, we also provide a range of loose leaf brewing tools here, which you may add to your order. 
Can you ship the tea samplers to multiple cities?
Absolutely. Tea tasting is a wonderful way to re-connect with friends in different cities or countries, and we encourage it. Please fill in this form if this applies to you, and we will make sure your needs are met. 
Which teas will we get to taste?
You will get to choose 3 teas from our Starter Tea Sampler, which includes six teas & tisanes from our personally sourced collection, spanning tea regions in China, Taiwan & Sri Lanka.
Who will lead the tasting?
The founder of Teawala, Mona, who has personally visited each farm and sourced her favorites, will be leading the session and guiding you through the teas and their stories with passion and enthusiasm :) 
When is the earliest I can schedule a tea tasting?

It depends on where you are located and how fast the tasting materials can arrive to you. Kindly refer to the estimated ship times to each country here. In general we would recommend allowing for 1 month between your order and the tasting, but for those who are rushing for a particular date, we have an expedited shipping option available. Please fill in this form and we will let you know what's possible!
Can we do this as a corporate team building activity?
Yes! Tasting teas is the perfect socially-distanced team activity to bring your team members closer together. Please contact us with your group size and inquiries. 
Where can I contact you for additional information?
For any additional questions, please contact us here.
Your Tea Moments