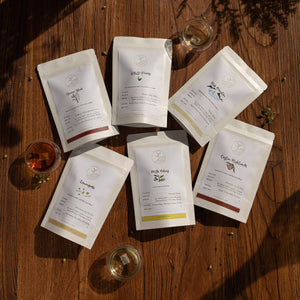 Starter Tea Sampler
Sale price Price $25.00 USD Regular price
New to Teawala?

Taste our favorite flavors from each region through this Starter Tea Sampler, which includes 6 teas and tisanes from our personally sourced collection.
Each pack contains 8 - 10g (enough for 2 - 3 servings) of each of the following:
This signature sampler spans the five tea regions we traveled to in 2018 & 2019, giving you a taste of one white tea, two oolongs, two black teas & one herbal tisane.
All teas are in loose leaf form. For easy loose leaf brewing, we recommend our Tea Infuser & Mini Glass Teapot. 
*Please note in the event we are out of stock on a tea, we may replace it with another one of our farm-sourced teas. 

Your Tea Moments